Institute of Personnel Management is invisting applications from interested students and professionals for Post Graduate Diploma.
Program Title: Post Graduate Diploma in Labour Law and Industrial Relations
Duration of the Course: 12 Months
Course Fee: 30,000/-

Class will start on: September 03,2023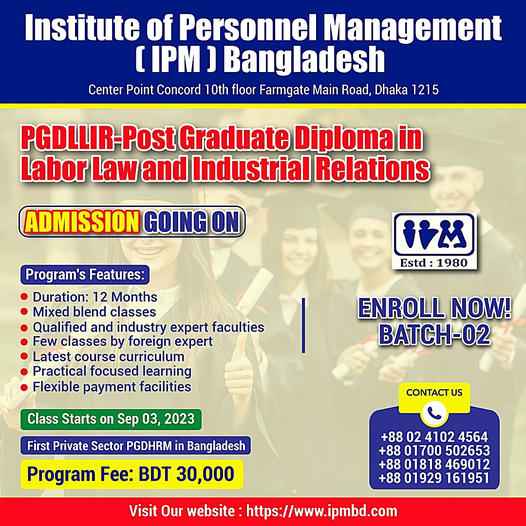 Ward Bangladesh has arranged a professional Labour Law Course
Program Title: Professional Certificate in Bangladesh Labour Law
Duration of the Course: 03 Months
Total 10 session will be delivered
● Module-1: Introduction of Bangladesh Labor Rules
● Module-2: Worker, Working hour and its management
● Module-3: Separation and Disciplinary Procedure
● Module-4: Health, Safety and Welfare
● Module-5: Leave, Maternity Leave and Maternity Benefit Management
● Module-6: Administration of Wage, PF, Gratuity, Profit Participation
● Module-7: Trade Union, CBA, Participation Committee
● Module-8: Forms, Formats and control of Government
● Module-9: New Amendments 2022
Class Starts from: May 19, 2023
Class Time: 8:30 pm - 10:30 pm
For Application Click Here
For further clarification you may visit Official website or see the published circular: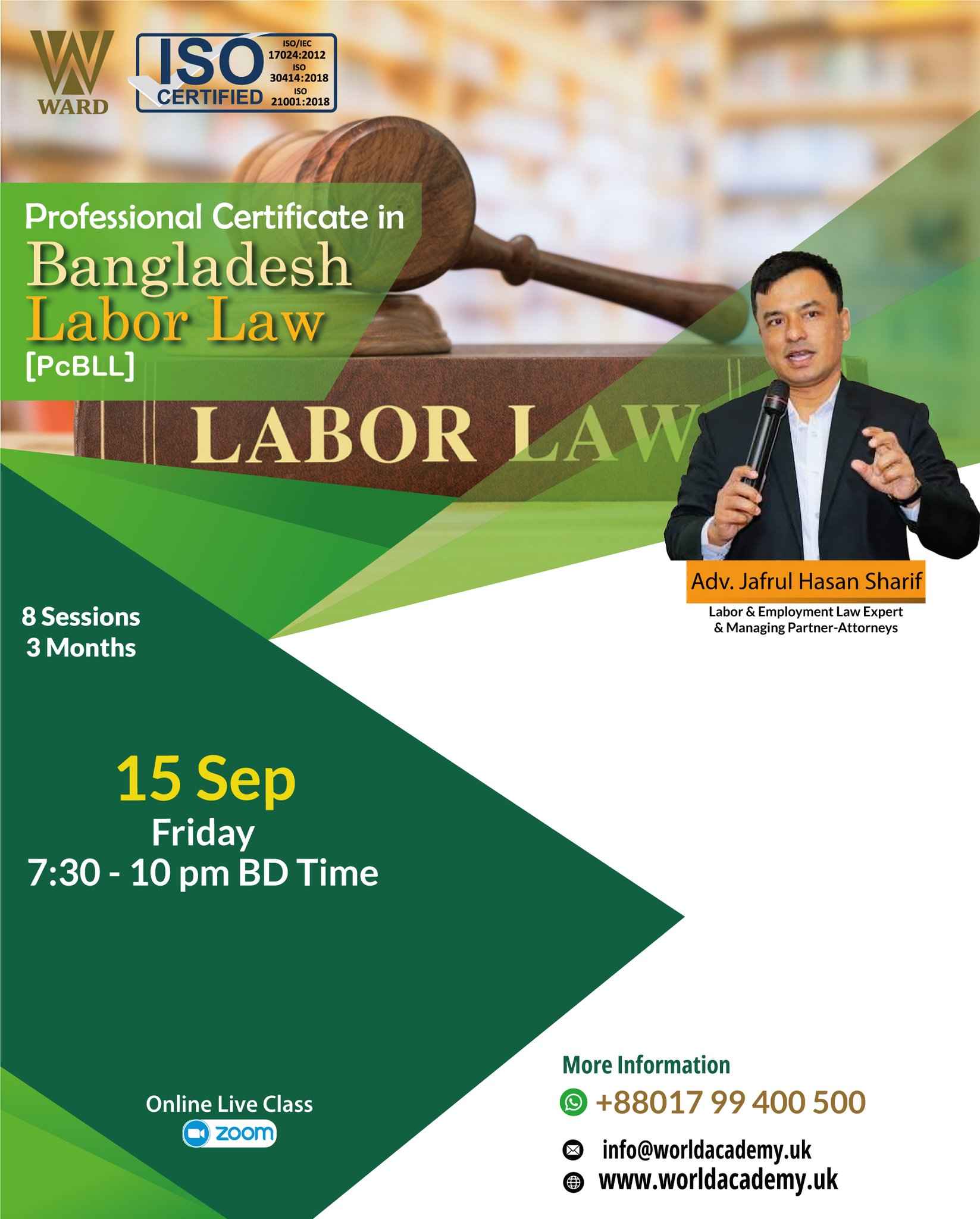 Enroute Centre for Bangladesh is going to arrange a day long training on labor law and Bangladesj Labor Rules.
Date: March 11, 2023
For details see the published circular:
CERTIFICATE COURSE ON LABOUR & EMPLOYMENT LAW
ORGANIZED BY DEPARTMENT OF LAW, NORTH SOUTH UNIVERSITY
COST: DBT 25,000
AVAILABLE SEATS: 30
12-WEEKS IN-PERSON SESSIONS
• DATE: 1 October 2022 (Tentative)
• TIME: Saturday 15:30-19:00 BST
Enhance your career by obtaining Ela firm understanding of labor and employment law and practices in Bangladesh
RESOURCE PERSONS:
Legal Academics
Legal Practitioners
International Development Workers
FOR:
ENTREPRENEURS
HUMAN RESOURCES PRACTITIONERS
LAW GRADUATES, AND SO ON
REGISTRATION INFORMATION:
To register for the course, please go to the following URL and fill out the form. The Department of Law, NSU will contact you once you have submitted your form.
COST: BDT 25,000
AVAILABLE SEATS: 30
Link for registration: https://forms.gle/u9rm6Npuxpa6Es5c9
Contact Information:
1. Email: mobasherajahan@northsouth.edu
2. Mobile: 02-55668200 Ext 6365
For more Labor Law Training you may visit URQUERY TRAINING
For further clarification you may visit Official Website or see the published circular