Post Graduate Diploma in Human Resource Management is one of the most popular courses in the Field of Human Resource Management.
WARD has introduced a Post Graduate Diploma in Human Resource Management.
UK Accredited
Program Details:
• Program: PGDHRM
• Duration: 9 months
• 52 Classes (48 Schedules e 4 Reviews)
• Total 12 Units (48 Modules) * Fully Practical Focused Learning
• Assignment Based Learning
• Class: Only Friday ( 4 - 7 pm BD Time)
• Equipped with Tools-Formats
Units:
U-1: Talent Acquisition
U-2: HR Business Partnering
U-3: Talent Development & Retention
U-4: Leadership & Personality Development
U-5: Human Resource Communication
U-6: Business & Employee Performance Management
U-7: Financial Intelligence for HR
U-8: Total Reward Management
U-9: Digitalization in HR
U-10: Ethics, Compliance & Legal Perspective of HR
U-11: Organization Design & Development
U-12: Industrial Relation & Workplace Safety
Class Starts: 20 May (Online Live Session by CD Zoom)
Website: www.worldacademy.uk
Contact: +8801799400500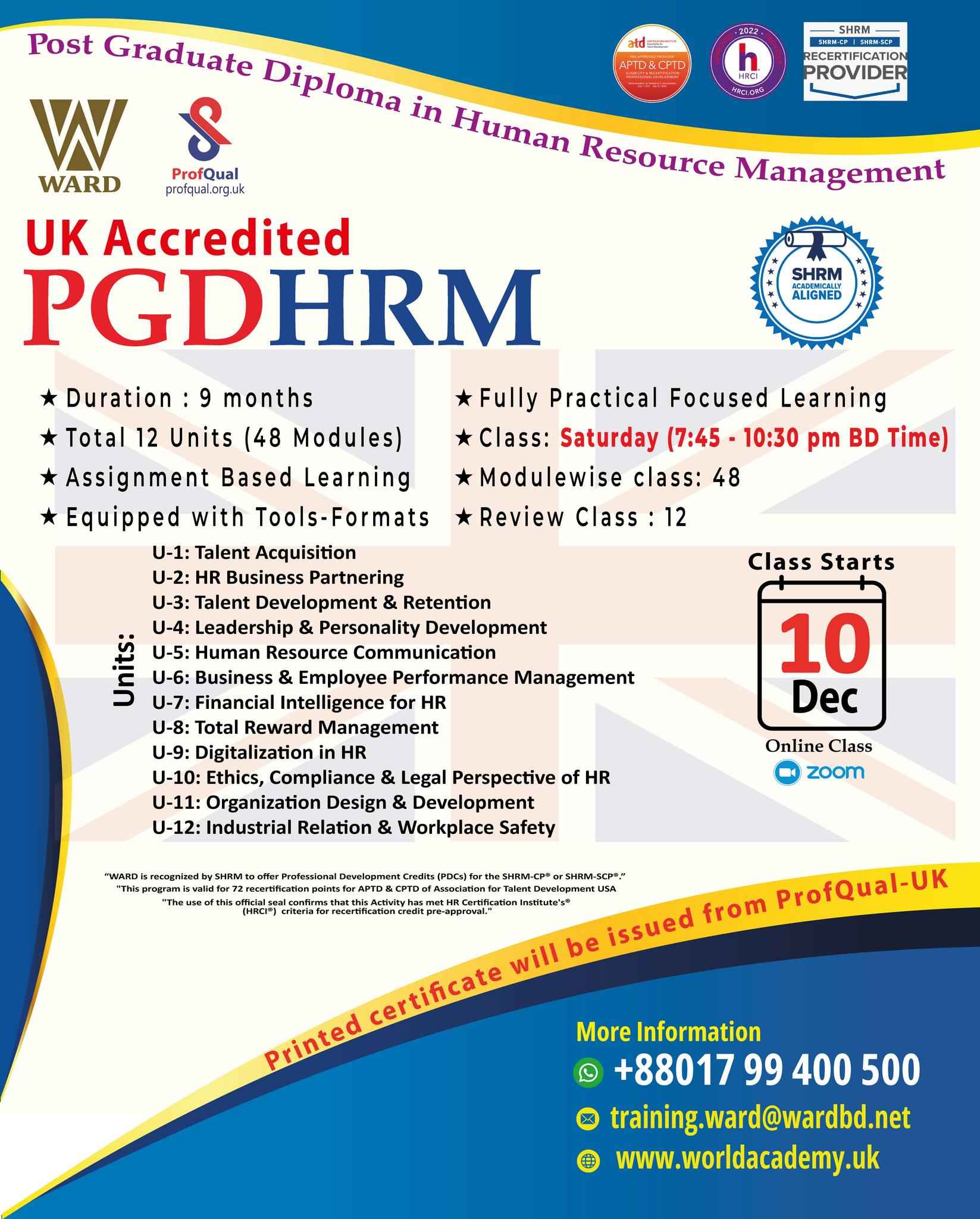 For information in Master in Human Resource Management CLICK HERE
Many institutes offer PGD in HR. Among them PGD HR from BIM (Bangladesh Institute of Management) and UIU (United International University) are popular and acceptable now.

Admission offers from BIM

Admission Offer from Bangladesh Institute of Management

This is a One-year PGD. It is divided in two semesters. This is the most popular and acceptable PGDHR in our Country.

Duration: 1 Year (One Year)

Course Fee: Tk.45,000/-

Venue: Dhaka, Chattogram and Khulna for PGDHRM

Form Submission Period: November 06,2022 to December 06, 2022

Dhaka Campus: Tel: 58155116 and 9103171-3
Chattogram Campus: Deputy Director, Tel: 031670332, Cell: 01716335801;
Khulna Campus; Deputy Director, Tel: 041 762391, Cell: 01717197600
Help Desk: 01681298045, 01911248999 & 01716335801 ( 9:am to 5:00 pm)
For further clarification you may visit BIM PGD COURSES
Bangladesh Institute of Managemeny Studies(BIMS) has introduced Postgraduate Diploma in Human Resource Management.
Now Their Admission is open.
For Admission visit their Official Website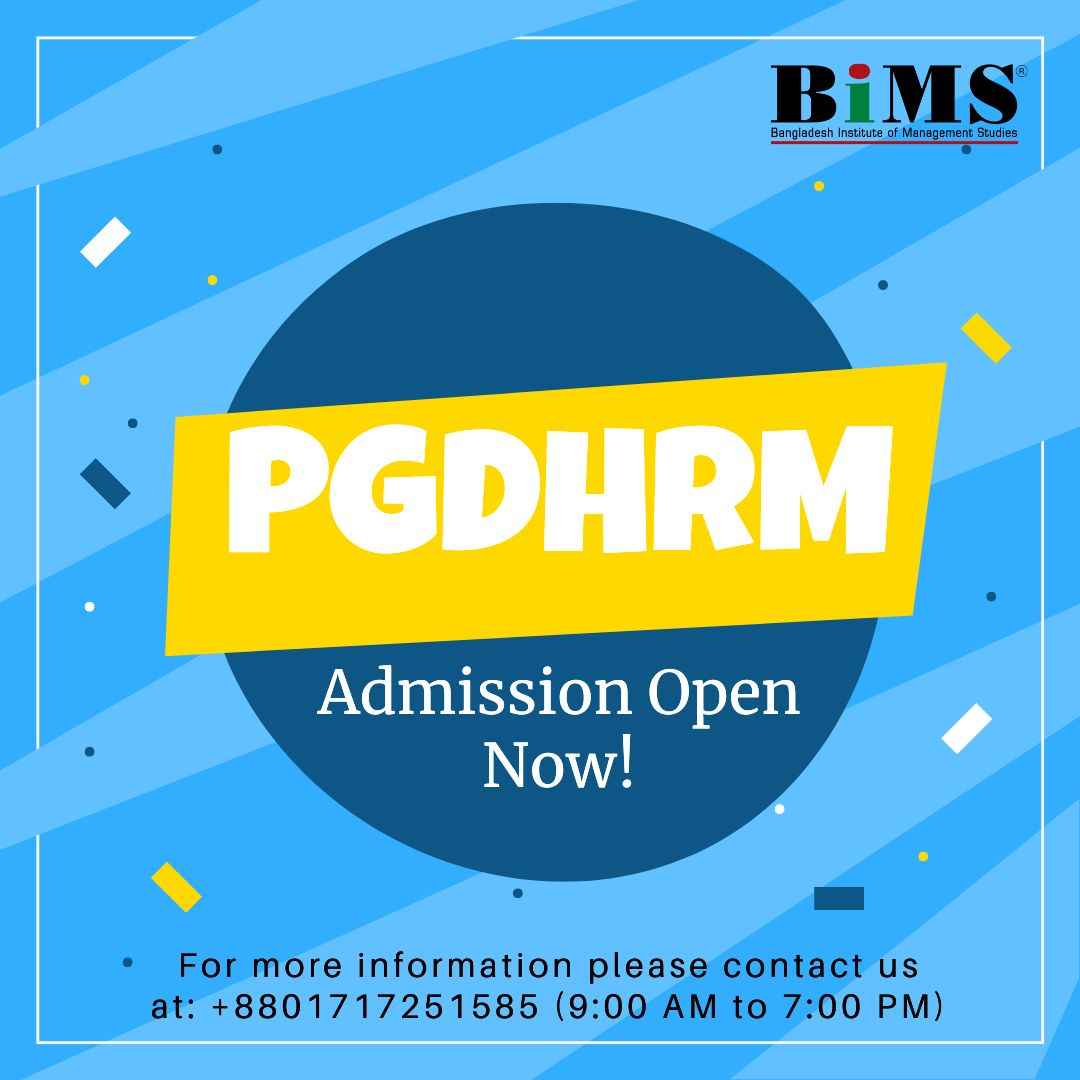 Creative Professional Development Association(CPDA) is inviting application for Post Graduate Diploma in Human Resource Management.
Course Fee:
22000/- for online learning
24,000/- for Classroom learning
Duration: 06 Months
For further details please see the published circular:
Admission Offer from United International University

Admission of Spring 2022 Batch (PGDHRM) is going on

Admission deadline is June 15, 2022

Classes will start on June 15, 2022

(Classes will be held only on Friday)

Online /on-campus

WHO is it for?

* Graduates from any discipline
* HR executives of any organizations
* BBA/MBA of HR Major
*Anyone who wants to pursue career in HR

WHY PGDHRM from UIU?

* UIU is one of the top Private universities of Bangladesh
* ACBSP accredited
* Courses taught by a mixture of highly qualified Faculty & industry professionals
* Flexible payment system
* Convenient time duration of 24 Weeks
* Wide network of HR professionals
Prospective students are requested to contact the admission office of United International University or call us at 01770152783 or inbox us for more detail.

Online admission, please Click Here
For More details:

For more PGD Course in Bangladesh you may visit URQUERY TRAININGS