Cost Management, Pricing, and customer retention have become the most important tools of the business concerns now a days.

All three aspects are greatly served by an efficient supply chain management. Supply chain existed since the very beginning of industrial production but in recent years it has been converted to an organized effort.

Supply Chain education and learning experience is getting popularity. In our country many organizations offer supply chain education in collaboration with different international organizations.

Bangladesh Institute of Management Studies (BIMS) with the collaboration of Institute of Administrative Management (IAM) is Offering Post Graduate Diploma in Supply Chain Management. It is the first Supply Chain education initiative of Bangladesh.

DCCI Business Institute (DBI) as sole authorized education partner of International Trade Centre (ITC)-UNCTAD/WTO is offering International Diploma in Supply Chain Management .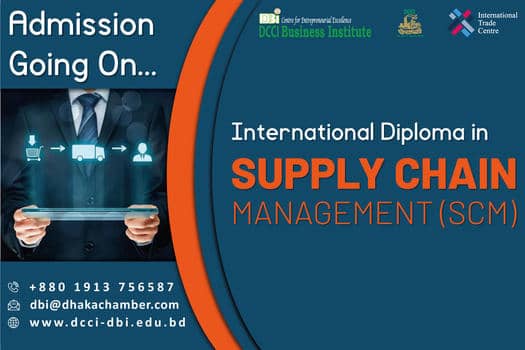 Mind Mapper, Bangladesh in association with International Supply Chain Education Alliance is offering Certified Supply Chain Manager and Certified Supply Chain Analyst Certifications.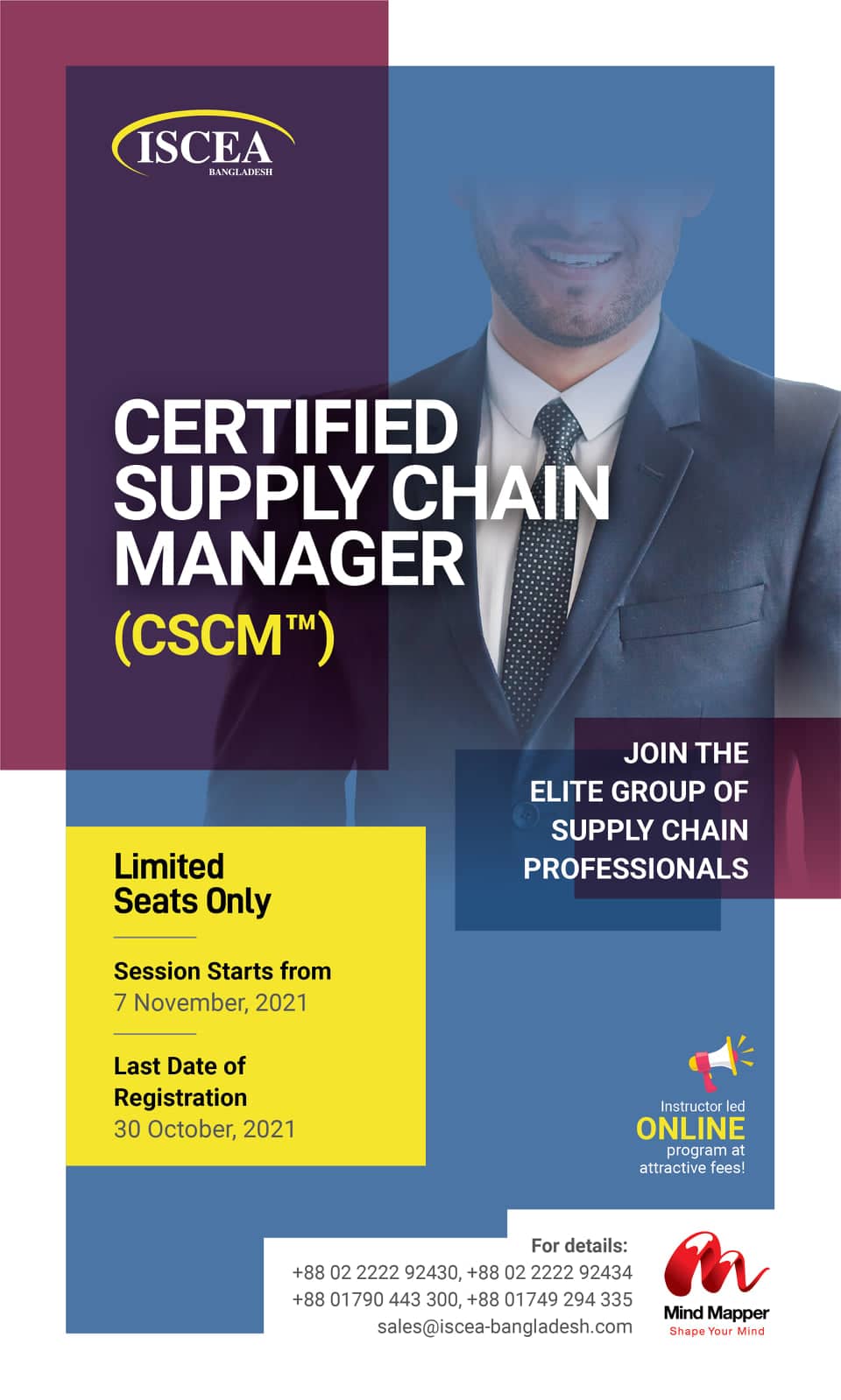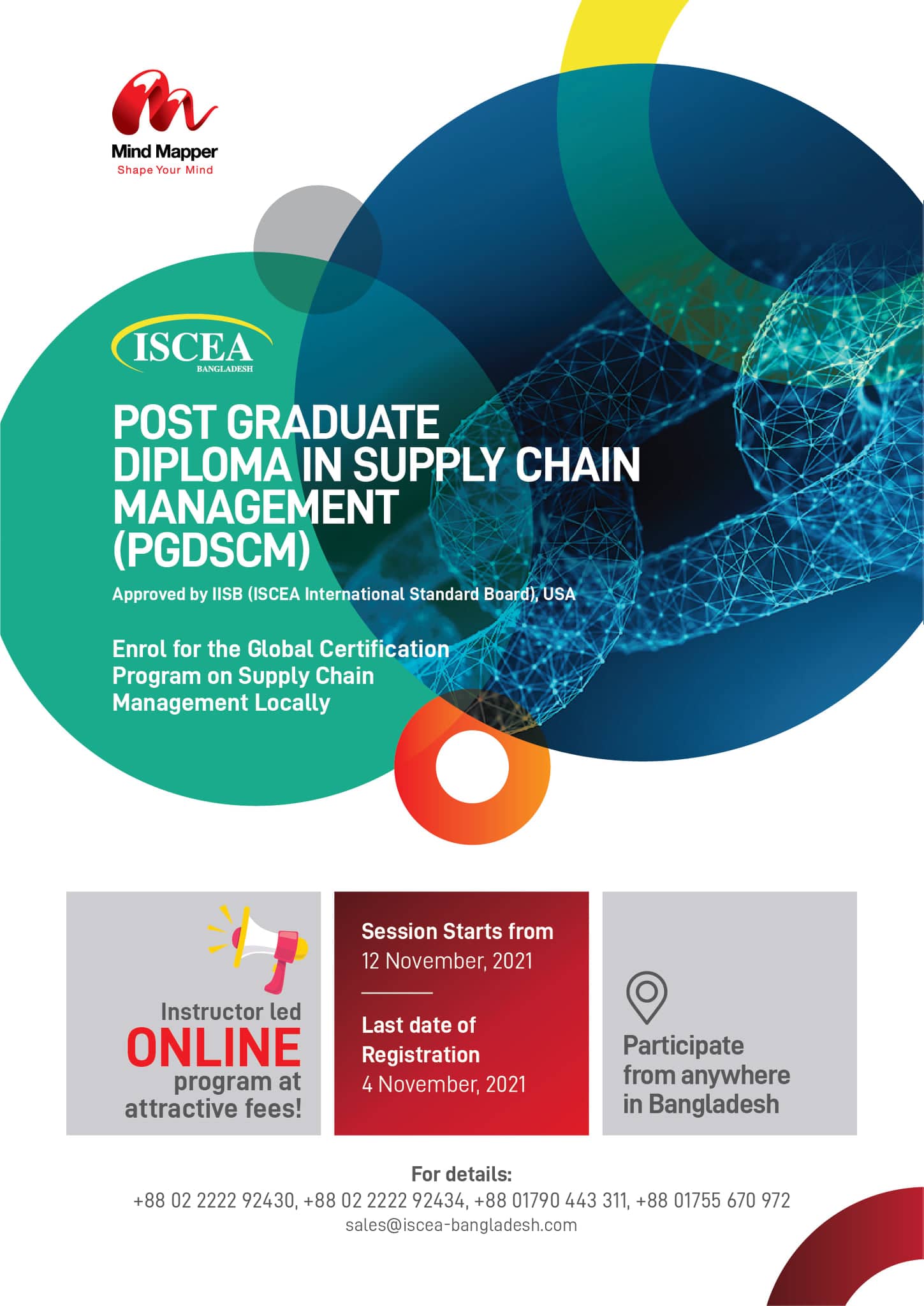 Bangladesh Institute of Supply Chain Management (BIHRM) is Offering Post Graduate Diploma in Supply Chain, Supply Chain Engineering Management, and Integrated Diploma in Supply Chain Logistics Management.
Further BKMEA is offer a free Training on Produaction Planning and Supply Chain Management.

In addition to all these certifications and Diploma Programs many institutes including IBA, DU offer training and certificate course on Supply Chain Management.
COURSE NAME: Effective Supply Chain Management (ESCM)
Duration: It is a Six-Week Course by IBA, University of Dhaka
As part of its constant endeavor for professional development, Institute of Business Administration (IBA), University of Dhaka is offering a six-week certificate course on `Effective Supply Chain Management'.
OVERVIEW:
This course is designed to provide a clear understanding of supply chain management. It will prepare participants with knowledge and tools to analyze the supply chain of any business, appraise related issues and take decisions to enhance supply chain effectiveness.
COURSE SCHEDULE:
The course will be taught over six weeks. Classes will be held online on Fridays (morning/evening) and Saturdays (evening).
Application Deadline:
The last date for submission of application is Saturday. June 19, 2021. Classes will start from Friday, July 02 2021.
ELIGIBILITY CRITERIA:
Prospective candidates must fulfill the following criteria:
• Bachelor's degree in any discipline;
• Minimum 2 (two) years of work experience with reputed organization/s (work experience can be relaxed for exceptional candidates).
APPLICATION PROCEDURE:
Candidates fulfilling the eligibility criteria should apply using the prescribed application form available at www.iba-du.edu. Scanned copy of the completed application form is to be submitted through email at mdp@iba-du.edu till Saturday, June 19, 2021. Candidates will be appearing before an online interview board for selection.
ASSESSMENT & CERTIFICATION:
The course assessment will be done through individual and group assignments, case studies and examinations. Successful completion of the course, participants will be my-ailed a certificate issued by IBA, University of Dhaka.
KEY RESOURCE PERSONS:
The resource persons for the program comprise faculty members from IBA, University of Dhaka and other reputed business schools of Bangladesh. Leading HR practitioners from the industry will also conduct sessions.
CONTACT DETAILS:
Cell: 01766993390, 01726885329 E-mail: mdp@iba-du.edu
Address: Management Development Program (MDP) Room 402 (3rd Floor), IBA University of Dhaka, Dhaka 1000
For more IBA DU courses you may visit URQUERY TRAINING
For free Supply Chain Management Course you may vist URQUERY TRAINING
For further clarification visit Official Website or see the published Circular: