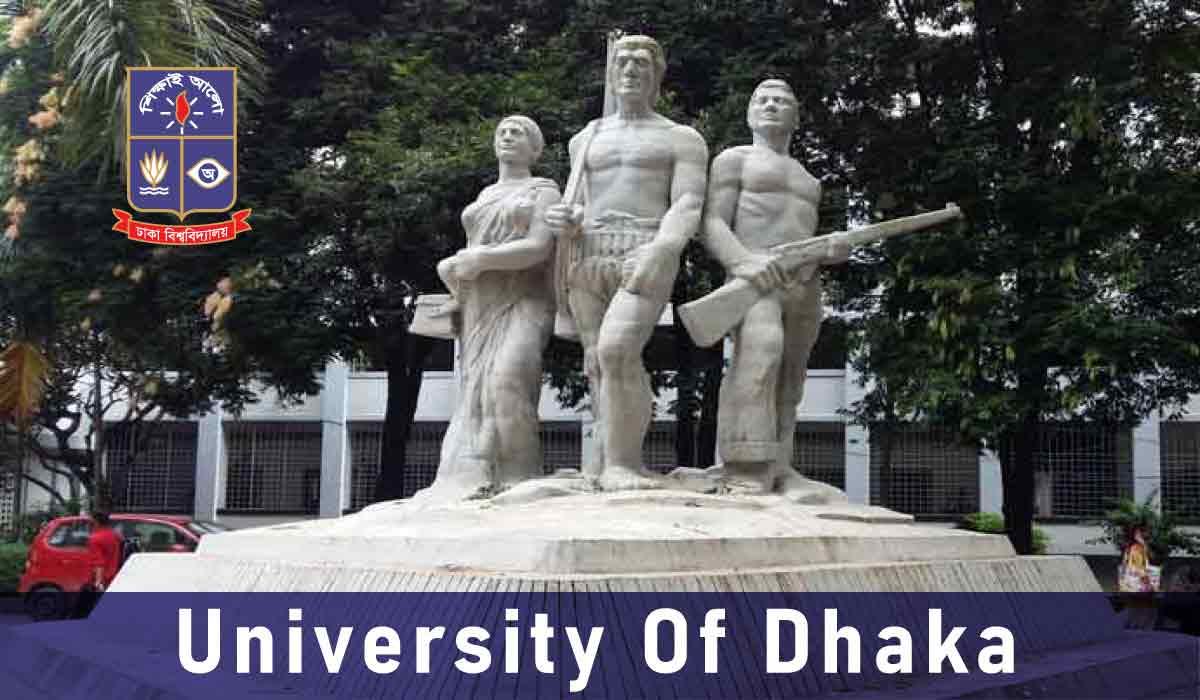 University of Dhaka (DU) is an autonomous government university in Bangladesh, located in Shahbag, Dhaka, known as a multi-faculty research university. It was established in 1921 in British India following the Oxbridge education system. It is recognized as the Oxford of the East.
Speciality
A specialty of Dhaka University is that it had a special contribution in the birth struggle of Bangladesh. Where the government of a country establishes a university, Dhaka University made a special contribution to the establishment of Bangladesh.
History
On February 2, 1912, Lord Hardinge, then Viceroy of British India, promised to establish a university in Dhaka.According to Rafiqul Islam's book 80 Years of Dhaka University, the Nathan Committee proposed to establish Dhaka University on 450 acres in Ramna area. Dhaka College, Government House, Secretariat and Government Press were in this place then.
At the beginning of its creation, Dhaka University faced various adversities. Besides, with the outbreak of the First World War in 1914, there was uncertainty about the establishment of the university. As a result, the people of East Bengal expressed frustration. In March 1918, Syed Nawab Ali Chowdhury in the Imperial Legislative Council called on the government to introduce the Dhaka University Bill immediately.
On 23 March 1920, the Governor General approved the bill. This law is the basis of the establishment of Dhaka University. As a result of the implementation of this law, Dhaka University started its journey on 1 July 1921. The doors of the university were opened for the students on July 1, 1921. At that time, the most elite and beautiful Ramna area of Dhaka, on about 600 acres of land, the abandoned buildings of East Bengal and Assam province and the building of Dhaka College (now Curzon Hall), Dhaka University was built in a pleasant environment.
This day of establishment is celebrated every year as "Dhaka University Day". It started its journey as a residential university with three faculties and 12 departments. Dhaka University started its journey with the students studying in degree classes of Dhaka College and Jagannath College (now Jagannath University). Not only students, but also teachers and library books and other materials, these two colleges collaborated in the establishment of Dhaka University.
The two halls of the university were named Dhaka Hall (now Dr. Muhammad Shahidullah Hall) and Jagannath Hall in gratitude for this cooperation. The faculties of Arts, Science and Law included Sanskrit and Bengali, English, Education, History, Arabic, Islamic Studies, Persian and Urdu, Philosophy, Economics and Politics, Physics, Chemistry, Mathematics and Law.
In the first academic year, the total number of students in different departments was 6 and the number of teachers was only 60. The first female student of this university was Leela Nag (English Department; MA-1923). Between 1947-61, 5 new faculties, 16 new departments and 4 institutes were established.
From the language movement of 1952 to the war of independence of 1971, the university has played a glorious role. During the war of independence, this university was attacked by the Pakistani aggressors. Many people including teachers-officers-employees and students of this university have been martyred.
Dhaka University at a glance
Motto : Education Is Light
Chancellor : Abdul Hamid
Vice-Chancellor : Professor Mohammad Akhtaruzzaman
Student : Around 36,064
Faculties and institutes :
13 faculties, 63 departments,12 institutes and 57 research centers.
Residential Halls : 20
List of Vice Chancellors :
1. Sir P. J. Hartog
Duration: 1 December 1920 - 31 December 1925
2. Professor George Harry Langley
Duration: 1 January 1928 - 30 June 1934
3. Sir A. F. Rahman
Duration:1 July 1934-31 December 1936
4. Professor Ramesh Chandra Majumder
Duration: 1 January 1938 - 30 June 1942
5. Professor Mahmud Hasan
Duration: 1 July 1942 - 21 October 1948
6. Professor Syed Moazzem Hussain
Duration: 22 October 1948 - 8 November 1953
7. Professor W. A. Jenkins
Duration:: 9 November 1953 - 7 November 1956
8. Justice Mohammad Ibrahim
Duration: 9 November 1958 - 26 October 1956
9. Justice Hamidur Rahman
Duration: 5 November 1956 - 14 December 1970
10. Professor Mahmud Hussain
Duration: 15 December 1970 - 19 February 1973
11. Professor Osman Gani
Duration: 20 February 1963 - 1 December 1969
12. Justice Abu Saeed Chowdhury
Duration: 2 December 1979-20 January 1972
13. Professor Mozaffar Ahmed Chowdhury
Duration: 21 January 1972-12 April 1973
14. Abdul Matin Chowdhury
Duration:13 April 1973 - 22 September 1975
15. Professor M. Shamsul Haque
Duration: 23 September 1985 - 1 February 1986
16. Professor Fazlul Halim Chowdhury
Duration: February 2, 196 - March 20, 1983
17. AKM Siddique
Duration: 21 March 1983-18 August 1983
18. Professor M. Shamsul Haque
Duration:18 August 1973-12 January 1976
19. Professor Abdul Mannan
Duration:12 January 1962 - 22 March 1990
20. Professor Mohammad Moniruzzaman Miah
Duration:24 March 1990- 31 October 1992
21. Professor Emajuddin Ahmed
Duration:1 November 1992 - 31 August 1997
22. Professor Shahid Uddin Ahmed (Acting Vice Chancellor)
Duration: 31 August 1997-29 September 1996
23. Professor A. K. Azad Chowdhury
Duration: 30 September 1996 11 November 2001
24. Professor Anwarullah Chowdhury
Duration:12 November 2001-31 July 2002
25. Professor A. F. M. Yusuf Haider (Acting Vice Chancellor)
1 August 2002- 9 September 2002
26. Professor S. M. A. Fayez
Duration: 9 September 2002 - 15 January 2009
27. Professor. AAMS Arefin Siddique
Duration:: 15 January 2009-4 September 2018
28. Professor Mohammad Akhtaruzzaman
Duration:4 September 2018 - Present
Institutions under the University
The oldest university in the country currently has 13 faculties, 63 departments,12 institutes and 57 research centers. Besides, there are 20 residential halls and 3 hostels for students to stay.
Faculties of Dhaka University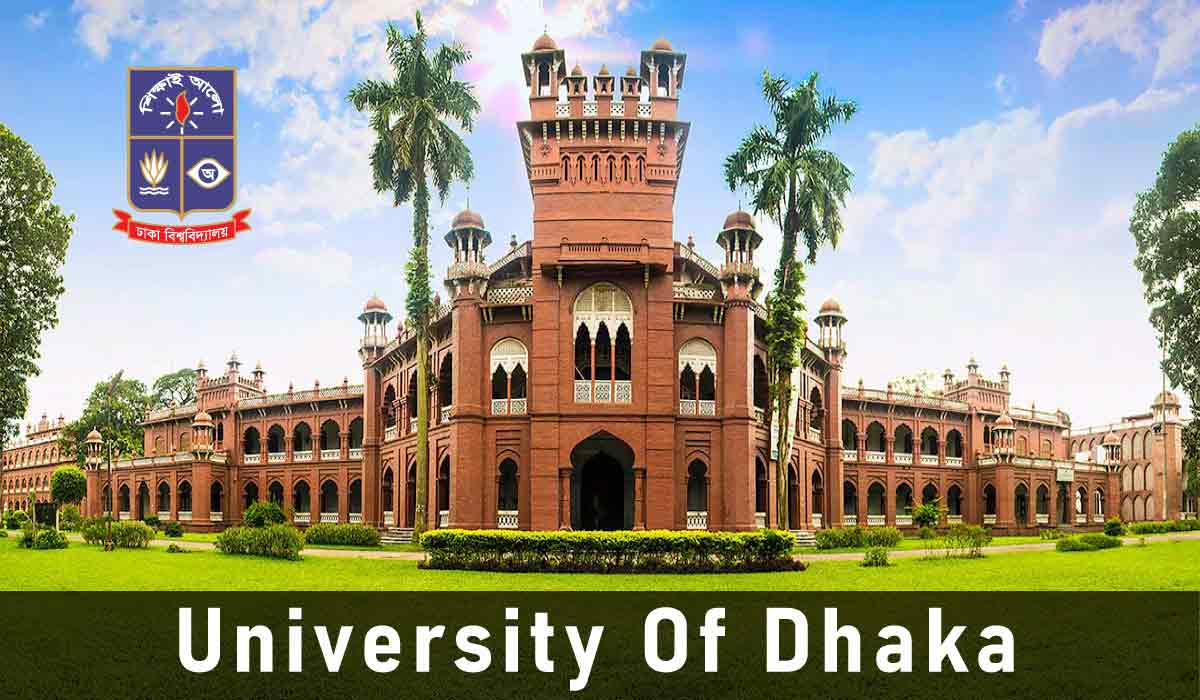 Dhaka University currently has 64 departments in 13 faculties. Admission test for all Bachelor program is taken once a year. Graduate and Post Graduate programs have different timing for admission. The faculties of Dhaka University and its affiliated departments are:
Faculty of Arts & Humanities:
1. Department of Bengali language and literature
2. Department of English language and literature
3. Department of Persian Language and Literature
4. Department of Urdu
5. Department of Philosophy
6. Department of History
7. Department of Arabic
8. Department of Islamic Studies
9. Department of Islamic History & Cultural Studies
10. Department of Pali and Buddhist Education and Department of Sanskrit
11. Department of Informatics and Library Management
12. Department of Linguistics..
13. Department of Drama and Music
14. Department of World Theology
Faculty of Science:
1. Department of Physics
2. Department of Mathematics
3. Department of Chemistry
4. Department of Statistics
5. Department of Biochemical Physics and Technology
6. Department of Theoretical Physics
7. Department of Applied Mathematics
Faculty of LAW
Faculty of Social Science:
1. Department of Economics
2. Department of Political Science
3. Department of International Relationship
4. Department of Social Science
5. Department of Public Administration
6. Department of Mass Communication and Journalism
7. Department of Anthropology
8. Department of Population Science
9. Department of Peace and Conflict Studies
10. Department of Women's Education
11. Department of Development Education
12. Department of Television, Film and Photography
13. Department of Criminology
Faculty of Business Studies
1. Department of Management
2. Department of Accounting and Information System
3. Department of Marketing
4. Department of Finance
5. Department of Banking and Insurance
6. Department of Management Information System
7. Department of International Business
8. Department of Tourism and Hospitality Management
9. Department of Organization Strategy and Leadership
Faculty of Biology:
1. Department of Soil, Water and Environment
2. Department of Botany
3. Department of Zoology
4. Department of Biochemistry and Inspiration Sciences
5. Department of Psychology
6. Department of Microbiology
7. Department of Fisheries Science
8. Department of Medical Psychology
9. Department of Educational Psychology
Faculty of Pharmacy:
1. Department of Pharmaceutical Chemistry
2. Department of Clinical Pharmacy and Pharmacology
3. Department of Pharmaceutical Technology
Faculty of Engineering and Technology:
1. Department of Electrical and Electronic Engineering
2. Department of Applied Chemistry and Chemical Engineering
3. Department of Computer Science and Engineering
4. Department of Atomic Engineering
5. Department of Robotics and Mechatronics Engineering
Faculty of World and Environmental Sciences:
1. Department of Geography and Environment
2. Department of Geology
3. Department of Oceanography
4. Department of Disaster Science and Management
5. Meteorology
Faculty of Fine Arts:
1. Department of Drawing and Illustration
2. Graphics design department
3. Printmaking Department
4. Department of Oriental Art
5. Department of Sculpture
6. Department of Crafts
7. Department of Pottery
8. Department of Art History
Other faculties:
1.
Faculty of Medicine
2.
Faculty of Postgraduate Medical Sciences
3.
Faculty of Education
Institutes
1. Institute of Education and Research
2. Institute of Statistical Research and Teaching
3. Institute of Business Administration
4. Institute of Nutrition and Food Science
5. Institute of Social Welfare and Research
6. Institute of Modern Languages
7. Institute of Information Technology
8. Institute of Leather Engineering and Technology
9. Institute of Health Economics
List of affiliated 7 government honors colleges
1. Dhaka College
2. Eden College
3. Poet Nazrul Government College
4. Government Titumir College
5. Government Shaheed Suhrawardy College
6. Begum Badrunnesa Government Women's College
7. Government Bangla College
Dhaka University Library
The Central Library of Dhaka University is the largest library in Bangladesh. The library started its journey on July 1, 1921 with the collection of about eighteen thousand books from Dhaka College and Law College. At present there is a collection of about 9 lakh books and journals. Also, there are about thirty thousand rare manuscripts here.
Dhaka University Central Students' Union
Dhaka University Student Union was established in the academic year 1922-23. In 1953 it was renamed as Dhaka University Central Students' Union (DUCSU). Although DUCSU elections have been held many times since independence, DUCSU elections had been closed since 1990-1991.
After a long 26 years, the much-anticipated DUCSU election was held in 2019 with some constitutional changes. Last VP of DUCSU was Nurul Haque Nur. The last GS of DUCSU was Golam Rabbani.
DUCSU has recently expired. It is to be noted that after the election of DUCSU, the swearing-in ceremony is valid for one year.
Residential halls
All the students of the university have to be associated with one or the other hall as residential / non-residential students. At present the university has 14 halls for students and 5 halls for female students. There are also separate hostels for students of the Faculty of Fine Arts and the Institute of Business Administration and international dormitories for foreign students.
Names of halls
1. Salimullah Muslim Hall
2. Shahidullah Hall.
3. Jagannath Hall.
4. Fazlul Haque Muslim Hall.
5. Martyr Sergeant Zahurul Haque Hall.
6. Rokeya Hall.
7. Master Da Suryasen Hall.
8. Haji Muhammad Muhsin Hall.
9. Shamsun Nahar Hall.
10. Poet Jasim Uddin Hall
11. Freedom fighter Ziaur Rahman Hall.
12. Father of the Nation Bangabandhu Sheikh Mujibur Rahman Hall.
13. Bangladesh-Kuwait Friendship Hall.
14. Sir P. J. Hartog International Hall.
15. Bangamata Sheikh Fazilatunnesa Mujib Hall.
16. Immortal Ekushey Hall.
17. Poet Sufia Kamal Hall.
18. Victory is seventy-one.
Convocation
After the commencement of academic activities of Dhaka University on 1 July 1921, the first regular convocation of the university was held on 22 February 1923 during the British rule. From 1924 to 1947, convocations were held every year (24 times in total). The last convocation was held on 21 November 1947 during the British rule. The first convocation of Dhaka University was held on 24 March 1947 during the Pakistan period.
Then until 1960 there were 15 more convocations. The last convocation during the Pakistan period was on March 7, 1970; That was the 39th convocation of the university. The first (40th) convocation after independence was to be held on 15 August 1975. The convocation of the university principal Bangabandhu Sheikh Mujibur Rahman as the President was to be inaugurated; But before that, at dawn, a brutal massacre took place, the August 15 tragedy.
Then the 40th convocation was held on 16 December 1999. Then in 2001 the convocation was held. Since then convocations have been held regularly. The last 52nd convocation was held on 9 December 2019.
Notable Alumni
1. Sheikh Mujibur Rahman, Father of Nation
2. Syed Nazrul Islam, the first interim president of Bangladesh
3. Tajuddin Ahmed, the first Prime Minister of Bangladesh
4. Jamal Uddin Ahmed
5. Abdul Matin Chowdhury, Physicist
6. AKM Siddique, Physicist
7. Golam Mohammad Bhoona, Physicist
08. MA Wazed Mia, Physicist
09. Professor. Anupam Sen - Sociologist and Ekushey Padak winner
10. Khandaker Siddique-i-Rabbani, Physicist
11. Imdadul Haque Khan, Physicist
12. Mohammad Ataul Karim, Physicist
13. AM Harun-ur-Rashid, Physicist
14. M. Innas Ali, Physicist
15. Kamrul Haider, Physicist
16. Khandaker Abdul Muttalib, Physicist
17. Sultana Nurun Nahar, Physicist
18. Dr. AFM Yusuf Haider, nominated, Nobel Prize in Physics 1994, 2013
19. Dr. Shahida Rafiq, nominated, Nobel Prize in Physics 2001
20. Muhammad Munirul Islam, physicist
21. Saleh Farooq
22. Fazlur Rahman Khan, Civil Engineer, Architect
23. Dr. Muhammad Yunus, eminent economist of Bangladesh and founder of Grameen Bank. He was awarded the Nobel Peace Prize in 2006.
24. Hafiz GA Siddiqui, Vice Chancellor, Economist, North South University
25. Abdus Sattar Khan, Chemist
26. Fazlul Halim Chowdhury, Chemist, Former Vice Chancellor, Dhaka University
27. Abul Hussam, Chemist
28. Abed Chowdhury, Geneticist
29. Shah Mohammad Farooq
30. Shah AMS Kibria, Economist, Diplomat, Politician, Former Finance Minister of Bangladesh
31. Shahabuddin Ahmed, Former President
32. Shaikhul Hadith Principal Muhammad Abdus Samad, Sahih Bukhari's Bengali translator and Islamic thinker
33. Abdul Bari is a former vice chancellor
38. Muhammad Asadullah Al-Ghalib, Islamic thinker
39. Akhtaruzzaman Elias, Fiction Writer
40. Buddhadev Bose, Bengali poet, essayist, playwright, novelist, translator and editor
41. Jahanara Imam, writer, novelist, academic and leader of the anti-war criminals movement.
42. Humayun Ahmed, Fiction Writer
43. Humayun Azad, Fiction writer
44. Humayun Qadir, Fiction writer
45. Rafiq Kaiser, Researcher, Essayist
46. Muhammad Zafar Iqbal, author.
47. Dr. Muhammad Mushtaq Hossain, Public Health expert, pathologist and political figure
48. Professor Ali Azgar, scientist and author, etc
Monuments and sculptures located at Dhaka University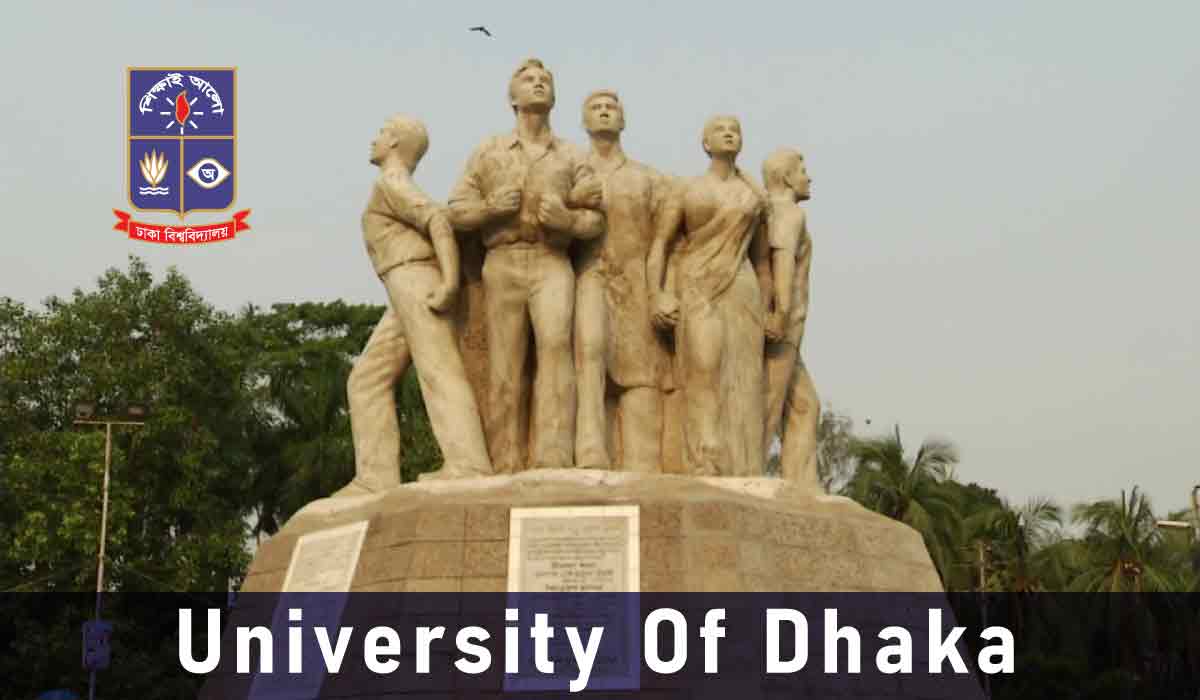 1. Invincible Bengali
2. Anti-terror Raju memorial sculpture
3. Self-acquired freedom
4. Doyle Square
5. Shrine of three leaders
6. Dhaka Gate
7. Freedom struggle
8. Swami Vivekananda sculpture
9. Shaheed Minar
10. Hate column
11. Honeycomb sculpture
12. Satta Shahid Memorial
13. Buddhist sculpture
14. Martyr Dr. Milon sculpture
15. Peace dove sculpture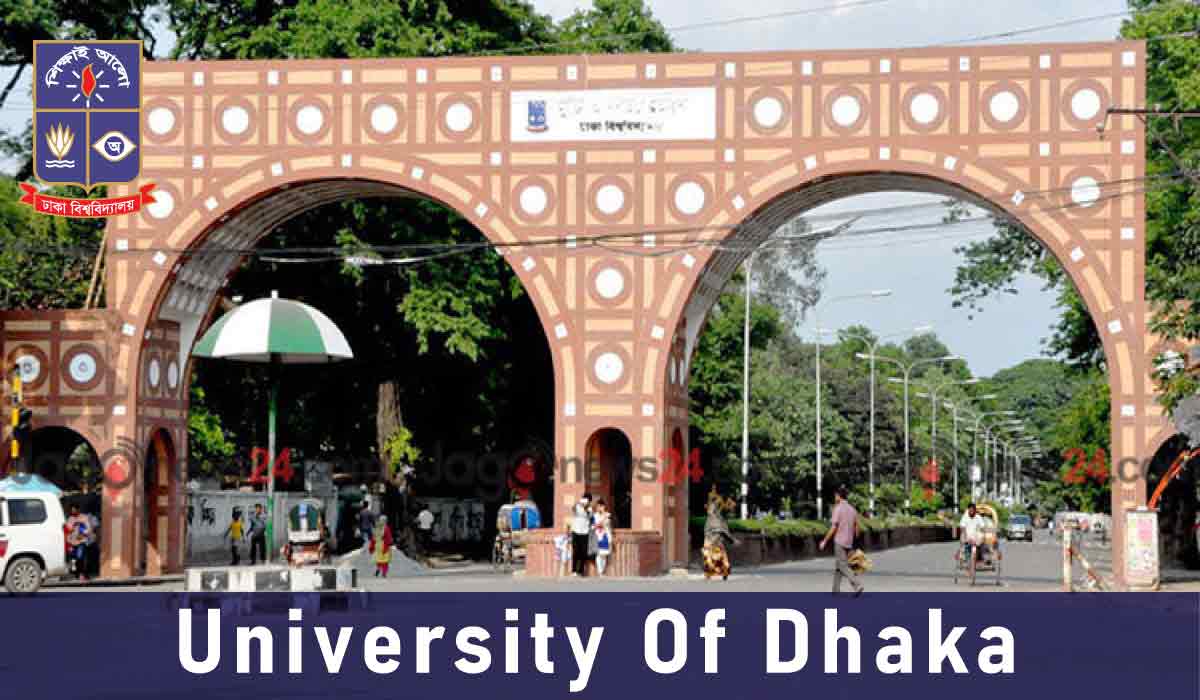 Known as the Oxford of the East, Dhaka University has maintained its uniqueness since its inception.